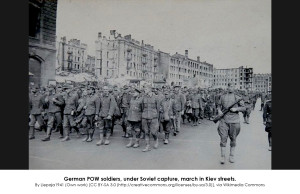 When they reached Kiev, its citizens watched as thousands of prisoners marched in columns, behind trucks mounted with loudspeakers and Soviet flags. Guards on horseback guarded the flanks of the bizarre parade, but it did not stop men, faint from hunger and exhaustion, from collapsing in the street.
Every bone in Ernst's ankles pressed painfully onto the fallen arches of his foot. Each step was agony, but he knew that to stop marching, to fall over, was certain death.  (p.183 "Threaten to Undo Us")
Of approximately three million German soldiers captured by Soviet Russia, it is estimated that over one million never returned home.  The POW's were rarely afforded appropriate provisions, shelter or medical treatment, but suffered appalling conditions as they fulfilled war reparations to rebuild the Soviet Union.
In 1956, the last prisoners were repatriated.
For more info: http://en.wikipedia.org/wiki/German_prisoners_of_war_in_the_Soviet_Union