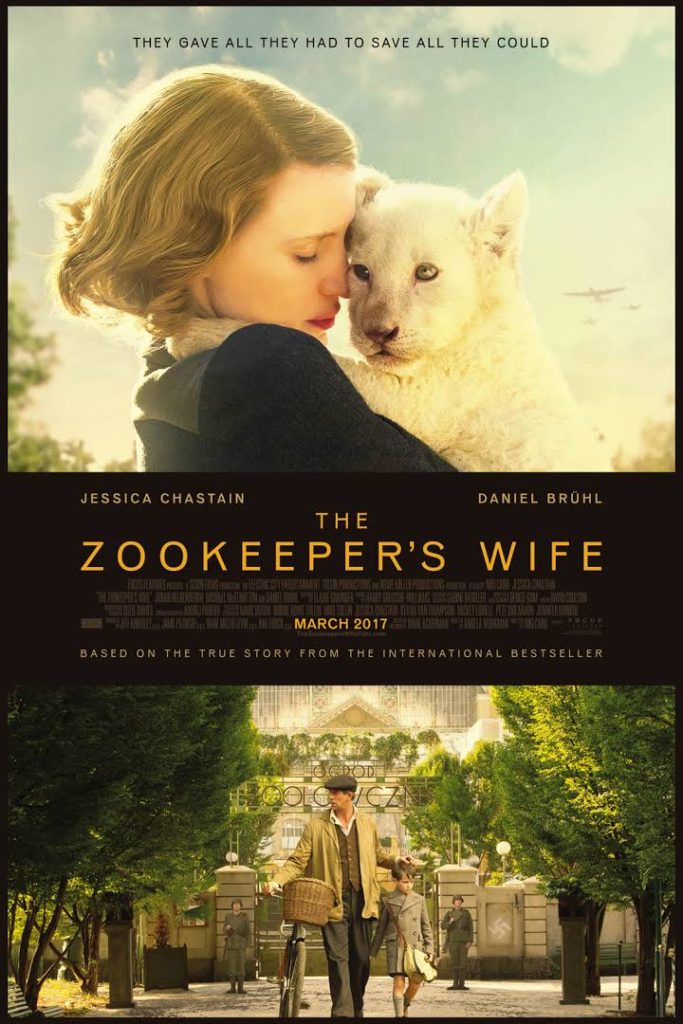 Antonina, the zookeeper's wife, is a woman who loves deeply—her husband Jan, their son and the animals they care for in the Warsaw Zoo. Every day families in the community enjoy the zoo, until 1939, when the Nazi assault on Poland begins.
When the zoo is bombed and the elephants, zebras and exotic cats escape their enclosures, the German army is there to shoot them, in spite of Antonina's protests. Everything the Zabinski's have worked for is about to be destroyed. During a lull from the fighting, the townspeople return a few of the roaming escapees to the zoo, but the zoo is now under the jurisdiction of the Third Reich. Lutz Heck, a friend, and now Hitler's chief zoologist comes to bear the news that their zoo is to be liquidated, and that as a favour, he is willing to give sanctuary to their prime breeding stock in the Berlin zoo and return them later.
Lutz tends to come around when Jan is absent and Antonina faces more than one dilemma, when she realises that accepting favours and trusting an SS officer comes at a high cost. Lutz must not suspect what is really going on, when Jan Zabinski becomes aware of the conditions in the nearby Warsaw ghetto and the Zabinskis agree to hide a Jewish friend. With Lutz Heck's unwitting permission, the couple embark on a daring scheme, ironically involving pigs, as a cover for their covert operation as a way station for people escaping the ghetto.
Danger is at every turn and decisions are made out of desperation to save lives. Suspense is kept high throughout, but interspersed with tender moments. This is an emotionally charged movie. Chastain, as Antonina, portrays a unique mix of emotional fragility, yet deep strength; both possibly the result of childhood trauma during the Russian revolution. Heldenbergh, playing Jan, is a good foil for Chastain's character: stalwart and strong. His jealousy is believable.
The movie raises the ethical choices that one must face when a regime as corrupt and immoral as the Nazis takes power. What was once distasteful, even unthinkable, becomes normal under desperate circumstances. Do other moral decisions matter, when it comes to saving the life of another human being?
Many people in post-war Poland did not get their property or estates back. SPOILER:  the Zabinski's were a notable and deserving exception.  Other movie viewers may not notice this omission, but the Soviet occupation of Poland, with its political upheaval and violence after the war was pretty much ignored. For the sake of story arc, I will forgive this flaw. The Zookeeper's Wife is a worthwhile and educational movie.
WARNING: This movie contains violence, brief partial nudity and suggestive scenes. Recommended only for adult audiences.