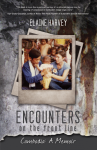 This honest and poignant memoir is Elaine Harvey's testament to the beguiling and tragic Cambodia.
Her first experience in a refugee camp with the beleaguered Khmer people is in 1980, as a nurse for the Red Cross after the Khmer Rouge uprisings in the time of the infamous Pol Pot. In the border camps she treats unspeakable injuries and illness, working under conditions that can only be imagined.
In spite of the best medical efforts of their team, the aid workers watch, heartbroken, as people die– a beautiful young woman, an old man, victims of a cruel regime. Saddened, shell shocked and exhausted, Harvey perseveres through love and loss, watching mothers without children, children who are starving and deteriorating working conditions. Her group is evacuated from their clinic that they had been working in as it was burnt down by warring factions.
But there are bright spots: working relationships with her colleagues, cherished friendships and even love are forged in this crucible. "A girl, about four years old, her bare feet crusted with red mud, spills the milk down her tattered pink dress, attracting flies. I lift her on my lap and we rock back and forth. She doesn't smile but her little heart beats against my breast. She is nameless, maybe motherless; all I know is I want to take her to Canada, give her a home, food, safety, and most of all, love…she is swept into the arms of the French doctor, over and up into the truck, on her way, her heart still beating next to mine." (p. 64)
Like this little girl whose heart beats next to her, Cambodia's heart beats next to Elaine Harvey's, even when she has returned home.  25 years later, Cambodia calls her back. Harvey hears about Partners in Compassion, which runs an orphanage. She goes to help as a nurse, but her efforts are challenged. These things are complicated and so is Cambodia. In a way, this is the soul of the book.
Harvey wants to reach out, now with nursing, next with healing touch  "…to reach out, not just with touch but with words, is the bridge I want to cross." But long term change and healing is not always possible as she  navigates her way around the broken yet vibrant country.
In the author's third visit she focuses more on travel and writing as she encounters people on the front lines and attempts to define her own front line. The writing is emotionally compelling. Cambodia is painted vividly and Harvey's reactions, both joy and bewilderment are visceral. "…a land where sorrow falls like monsoon rain." p. 163. .
For this reader I would have liked to hear more of Harvey's reasons for going to Cambodia, the catalysts that drove her and her relationship with her own country.  Aside from these questions, reading Encounters on the Front Line was to experience a little of the heartbeat of Cambodia next to mine. An intriguing read!
Available at:
Promontory Press: https://goo.gl/XxgjIn   Chapters Indigo:  https://goo.gl/PcUI5F  Amazon.ca: http://goo.gl/kPlwQu  Amazon.com: http://goo.gl/kWuJOR